We do not have any Kids programs at Machida campus because of the pandemic now.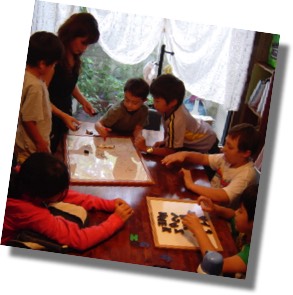 Kids Mini-Church (Sunday Morning 11-12:30)
Kids Mini-Church at Your Church started with our desire for our kids to enjoy church life and to come to know God more. Generally, many churches have "Sunday schools" or "church schools" but our goal is not to have a school. Kids Mini-Church is the place where kids worship God, learn from the Bible, pray together, fellowship with each other, and have lots of fun!
Kids Mini-Church is held during the message for adults at the Kids room.
Program for elementary school children (1-6G) consists of listening to simple messages from the Bible and various activities including songs, crafts, and games.
Carpet corner for babies and toddlers
We have a small carpet corner for babies and toddlers with toys and picture books in our hall. Basically their parents/guardians are listening to sermon and worshipping via the display on the wall there while they are nursing their kids at the corner..
* Kindergarteners (4 to 6 years olds) may be able to attend the elementary class at the parents' request. Please check with the contact person about the possibility.
* Junior High-school students are expected to attend the regular service with the adults.
Nurturing faith at home
Kids Mini-Church only takes up less than one hour of a child's week. Because of this, it cannot build up all the basic elements of faith (learning about God, becoming familiar with the Bible, praying, etc) by itself. The place to do that is home.
The same principle applies for kids as well as adults: you can't expect spiritual growth to happen by just attending church on Sundays. Instead, spiritual growth happens in our everyday lives. At Your Church, kids and adults learn about the same passage from the Bible every week. Using that as a common base, parents are encouraged to share the blessings they received from that passage with their kids (you can think of it as doing a kind of mini-church with your kids).