Mari Ikeda
---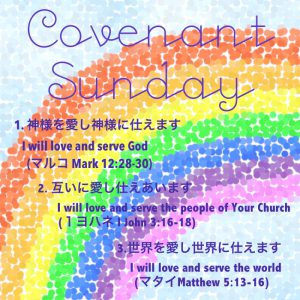 Video Youtube
---
The Covenant to Love
(Membership of Your Church)
---
1. I will love and serve God
(Mark 12:28-30)
One of the teachers of the law came and heard them debating. Noticing that Jesus had given them a good answer, he asked him, "Of all the commandments, which is the most important?" "The most important one," answered Jesus, "is this: `Hear, O Israel, the Lord our God, the Lord is one. Love the Lord your God with all your heart and with all your soul and with all your mind and with all your strength.' (Mark 12:28-30)
A. By making worship the highest priority in my life

(Luke 10:38-42)
38 As Jesus and his disciples were on their way, he came to a village where a woman named Martha opened her home to him. 39 She had a sister called Mary, who sat at the Lord's feet listening to what he said. 40 But Martha was distracted by all the preparations that had to be made. She came to him and asked, "Lord, don't you care that my sister has left me to do the work by myself? Tell her to help me!" 41 "Martha, Martha," the Lord answered, "you are worried and upset about many things, 42 but few things are needed―or indeed only one. Mary has chosen what is better, and it will not be taken away from her." (Luke 10:38-42)
B. By tithing

(Malachi 3:10, II Corinthians 3:7)
Bring the whole tithe into the storehouse, that there may be food in my house. Test me in this," says the Lord Almighty, "and see if I will not throw open the floodgates of heaven and pour out so much blessing that there will not be room enough to store it. (Malachi 3:10)
Each of you should give what you have decided in your heart to give, not reluctantly or under compulsion, for God loves a cheerful giver. (II Corinthians 3:7)
---
2. I will love and serve the people of Your Church
(I John 3:16-18)
This is how we know what love is: Jesus Christ laid down his life for us. And we ought to lay down our lives for our brothers. If anyone has material possessions and sees his brother in need but has no pity on him, how can the love of God be in him? Dear children, let us not love with words or tongue but with actions and in truth. (I John 3:16-18)
---
3. I will love and serve the world
(Matthew 5:13-16)
"You are the salt of the earth. But if the salt loses its saltiness, how can it be made salty again? It is no longer good for anything, except to be thrown out and trampled by men. "You are the light of the world. A city on a hill cannot be hidden. Neither do people light a lamp and put it under a bowl. Instead they put it on its stand, and it gives light to everyone in the house. In the same way, let your light shine before men, that they may see your good deeds and praise your Father in heaven. (Matthew 5:13-16))
---
Summary
Because God loved us with His unlimited love through Jesus, we make it our first priority to love Him. It means we listen to Him and follow and rejoice in His will, instead of following our own desires. That is our source of life. None of us can maintain this way of life alone. We need the friends in church who rejoice in the same God and support each other. We need to learn that we are able to love each other even if our love is not perfect. We are also given the role to love all people outside of church in the way that God loves them. This way of loving God and people is the covenant we are expected to keep as a Your Church member.
---
For Discussion
1) Why do we need to become a member of a church?
2) Why do you (not) want to become a Your Church member?